Upcoming Workshops & Other Events

I'm currently looking for a permanent workshop venue. Your suggestions are welcome. Pam – The Shoppe
Download full list of workshops here: Workshop List
No workshop in your area? You can download the 4 most popular workshops in PDF format to do at home. $25 per workshop or $85 for all four.  Click on workshop title below to download:
- Making Soap & Soap-based Products
- Natural Hair & Body Products
For all FOUR workshops Click Here
For more detail go to: Practical Sustainability Workshops
—————————————————-
Workshop Email List: To receive regular workshop updates and newsletters:
—————————————————-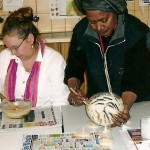 Full list of workshop topics – Would you like to hold a workshop at your local venue? For full list of all workshops on offer (for potential venue bookings) download printed list here: Workshop List.
Workshop Presenters wanted in other areas of Australia – if being a  workshop presenter interests you - click 'Become a Workshop Presenter' or email pam@theshoppe.com.au
——————————————————–
Speaker Available

I'd be happy to speak to your gathering, meeting or group about ways to substitute consumer products with practical household alternatives to save money, reduce chemical usage in the home and promote environmental responsibility.  Contact me: pam@theshoppe.com.au for more info or download information flyer: Practical Sustainability in the Home session
———————————————————-

Pam's Post
In 2004 I was invited by my local Community Centre to run workshops along the theme of my 'back-to-basics' writings. To my surprise the workshops quickly became very popular.  I initially began with only three or four basic workshops but over the years as demand has dictated I have extended the range of workshops to offer sixteen different topics.  I now spend the majority of my time running workshops at various suburban Adelaide and country venues – for councils, community centres, community groups, businesses and groups/associations.
The workshops offer practical experience in all the areas covered by The Self-Sufficiency Shoppe.  Absorbing information and learning new ways are the first stage to changing our behaviour. The next important step is 'doing' – that is, putting into practise, making, creating and experimenting. The 'Living in Harmony with the Planet' Workshops offer just that in a fun, exciting and fulfilling way. The workshop formats are aimed at showing people how easy it is the do things differently in the home and make simple, safe alternatives – using easy-to-find ingredients from the home, garden or supermarket.  Attending a workshop is a 'must' if you are serious about making significant changes to your lifestyle (i.e. using less chemicals, helping the environment and saving money). It's 'practical experience' that puts it all into perspective.
Running these workshops has been, by far the most rewarding part of The Self-Sufficiency Shoppe.  People really enjoy making and creating using simple, accessible ingredients and taking home lots of product samples!  For reasons I do not fully understand this type of workshop environment has a wonderful 'energy' of sharing, creativity, freedom and learning. It's a been most wonderful experience watching people create unique products using scents, ingredients, colour, etc. of their particular choosing. It enables people to step out of the confines of commercialism into a world of freedom of choice – cheaply and easily – quite the opposite to our money orientated commercial world!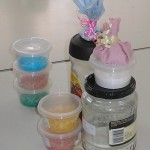 The most popular workshop is 'Natural Skin Care' – which is perhaps a reflection of the powerful influence the cosmetic industry has over people's purchasing choices. The second most popular workshop is 'Green Cleaning'.  It's easier to change to using simple alternatives in areas like household cleaning than the more personal areas – such as deodorants, hair care, etc.   So if you plan to do a workshop or two start with 'Green Cleaning' then progress to 'Making Your Own Body Products' later.
The focus of all the workshops is 'making and creating' – not lecturing  - about 'doing' – not theorising.    The best way to 'connect' with the philosophy of The Shoppe and the 'Living in Harmony with the Planet' workshops is by attending a workshop. It's the practical skills that are the 'icing on the cake' – so to speak.
If there are no workshops in your particular area perhaps you would consider a Workshop@Home or running something similar in your local area by 'Becoming a Workshop Presenter'
Pam – The Self-Sufficiency Shoppe