Testimonials
What other people are saying about The Self-Sufficiency Shoppe and Living in Harmony with the Planet Workshops
Hi Pam,  I'm 31 years old and new to ideas of self sufficiency and permaculture. I've always had a strong anti consumerism stance, but have struggled to make the jump to DIY. Your site has been a great help in this transition and it's wonderful to learn from someone who knows the tricks of the trade and has all the wisdom on hand! Many thanks for all your help. I'm growing lots of plants, cleaning with all natural products and learning new things everyday. Keep up your great work! Yours in spirit, David.
Thank-you Pam for those excellent ideas you have emailed us. I will be making the soap jelly. You have saved me a fortune with your great ideas. Judy
Hi Pam, What a great newsletter, thank you.  Lots of information and things to try and I love the photo of yourself! Keep warm. Lynette.
With deep gratitude and appreciation for all the work you do, I would love to receive regular newsletters and mentoring to become a presenter and spread this beautiful work. Really enjoyed the recent workshop at Victor Harbor. My children took the products they had made to school the next day to share and show. Pamela
Hi Pam, I met you at the workshop on Sunday and wanted to say 'Thank-you' for the delightful afternoon. You re-ignited a passion for "making" and I've been busy ever since! Thanks again. Donna
I just had a chance to browse through your website and I must say I am overwhelmed by all the information. Wow!!! But, I guess you would expect that after 20+ years of research. There's just a lot of information so I am not too sure where to start. Jasmine
I have just had a look at your website and I must say there is a lot to be said for finding alternate uses for everyday household products indeed. I am sure you must be inundated with enquiries generating form your site. Tash
I'm not often given to responding to emailed messages, particularly where a response has not been requested, BUT I just had to write & say 'Congratulations, Pam' — both the revised website & newsletter are fantastic! Since attending one of your workshops & joining your mailing list, I have always enjoyed reading your newsletters. Now it's an absolute joy to share your passion for self-sufficiency & looking after the planet — your positive energy & enthusiasm for your subject shine through everyone of your articles. Being so close to the face of what you do, you might not be in a position to fully appreciate the difference you make — from where I sit, it is seismic & I for one value the effort involved in making such substantial changes. Megan

Greetings Pam, I recently came across a bundle of old magazines called Grass Roots. I knew they would be interesting reading. This is where you come in Pam:  This morning I read your article in the June 1991 edition which has inspired me immensely. I thought if your business was successful you would definitely have a web site, and here it is. Congratulations!!!!. I am retiring from the workforce next month which will allow me more time to learn a way of life I have always desired. I have three chickens and have started a herb and vege garden in my suburban back yard  I am definitely going to search through every bit of information you have to offer and I am so pleased to have found your article. Lorraine.
Thank you Pam for once again for a very informative & knowledgeable newsletter.  I am so glad I found you. Love the fact you care and look after darling felines that others have discarded. Grateful for your fact sheet with recipes for homemade cat-food! Sadie
Hi Pam - Enjoyed the recent workshop in your backyard – learnt so much – so close to the coal-face! Ollie
"Hi Pam, Thank you for your wonderfully informative web site.  I have found it really inspirational, as have others I have referred to your site." Christie
"Woow – I'm so pleased myself.  I purchased your Green Cleaning Workshop Package and have just done my first 'presentation' to mothers at my local kindergarten. It felt so good. Thank you, thank you, thank you!!" June
"Dear Pam,  I made the soap jelly which I use for my washing machine.  I also made the shampoo using the soap jelly and almond oil. Thanks so much.  I also gave 5 family members and friends a laminated copy of the basic soap jelly recipe with a cake of soap and Lectric soda (washing soda) in a small bucket – all ready to go!   I know at least one has made it!"   Many thanks - Narelle.
"I just wanted to say thank you. I attended your "green cleaning workshop" in Victor Harbor the other week and I feel as though it has changed my life!  I have always tried to do the right thing and buy the most "eco friendly" products I could find, but now I feel as though there really is no other option for me and my young family other than making my own, and through your workshop and some of your downloads it has become a reality.  I really enjoy the soap making process which is something I thought I would never do, and making the cleaning products and organising them in lovely jars and bottles has become one of my favourite past-times. So thank you very much, and keep up the good work!" Megan
"I always look forward to your newsletters, you express so well, the same truths as myself.  I have just downloaded, Surviving The Hard Times, although I do have a full set of the booklets – it was interesting to read a bit about your own journey and how you came to be doing this work. I just wanted to say you do a great job, it is so encouraging to know there are people around like you. You are right about the energy of the world changing and we are changing too, I look forward to what ever the future brings". Cheers Pat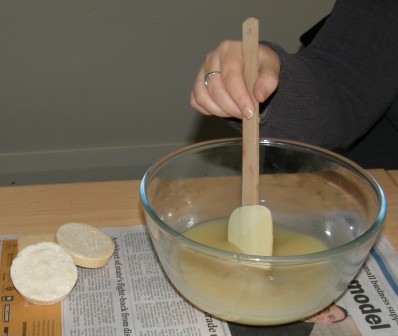 "Hi Pam,   I just have to tell you I hardly ever read the newsletters I receive in my inbox but when I see it's from you I can't wait to open it.  My daughters and I did your cosmetic workshop at the Burnside Library a while ago and we are still having loads of fun making our own homemade cosmetics.  In fact we now have requests from family and friends (who we gave our lip balm samples to) to make some more as they now can't stand using the bought ones!   I love that we can go out to our garden, pick the herbs, and know everything that goes into our skin-care is organic and natural plus it's really nice to share that with the girls.  I just love what you are doing and have learnt so much from your workshops and articles, and thought I would tell you this first hand"   Blessings – Jo
"Hi Pam,  I don't know how I ended up on your mailing list, but so glad I am. We are a mainstream family who 1 year ago bought an established home, and converted the front yard lawn to a native garden and mini orchard, community herb garden citrus area, raised veggie beds and a water tank to supply it all.  Hoping to get some chooks in our very small back yard later in the year. We try to limit chemical exposure to us and our 2 young children, so very keen for all natural products. So really appreciate what you teach." Kind Regards  Kylie
"Hi Pam,  I just wanted to say that I recently downloaded a couple of your e-booklets (No. 30 and 19) and really enjoyed them immensely.  I particularly like the idea of being able to print out one page (recipe) when required – not the entire booklet.  Thanks for all your work." Mary
"Hello Pam,  My daughter and I attended one of your workshops on environmentally-friendly gift-making. We both enjoyed it – thank you.  We have since tried to make the liquid soap using a  recipe the  Recycling Soap booklet." Louise
"Hi Pam, I always love attending your workshops and it is fantastic what you are doing for our world and for the people who really do want to make a difference but don't know where to start.  You are really one of our earth's 'angels'. I read something the other day which makes sense: The Will of God will never take you where the grace of God will not protect you!  I interpret this that we are definitely guided to do things that sometimes we may question but things will always work out for the best in the end! – thanks Pam. Take care." Deb.
"Hi Pam,  I just wanted to say how much my girls and I enjoyed your skincare workshop recently. It  was a great introduction to show them they can create natural skincare from a few simple ingredients. Just wanted to let you know what happened to us today while making lip salves in the hope of preventing it happening to someone else. We had made 2 successful batches of lip salve using essential oils however our third batch was a disaster. We melted the beeswax, coconut oil and almond oil in a saucepan and then added a few drops of vanilla essence. The whole thing then starting spewing out hot liquid like a volcano but luckily I turned off the flame before I added the essence or we could have had a fire.  Please let your readers know that it is very unsafe to put vanilla essence in the lip salve mixture." Kind Regards,   Jo, Jess and Hannah x
"What a great idea!  I'm from inter-state and sadly your workshops are too far away from me to attend. But I downloaded the Skin Care Worskhop and made up all the recipes. It worked very well.  Thank you for all your work." Rose
"Hi Pam,  Thanks for the latest newsletter, I loved the article "Power of Advertising".  When I watch telly, I get so mad at the false advertising stating the benefits to the environment, and get madder when I see people fall for this!" Regards Naomi
"Hi Pam,  Love your newsletter!  My only complaint is that it isn't long enough!" Helen
Many, many thanks for your positive letters and emails. It makes such a difference to my day when I receive feed-back like this. While I can 'babble on' for hours about the benefits of alternatives (until the 'cows come home' – as they say) just a few wise words from readers can say it a thousand times better!    Thanks.   Pam
I'll be adding more testimonials soon!  Your comments and positive input are welcome!  Send to: pam@theshoppe.com.au
The Shoppe's regular newsletters will keep you informed and up-to-date with advice, recipes, feedback and more:
To subscribe to The Shoppe Newsletter: