Old Time Kitchen Skills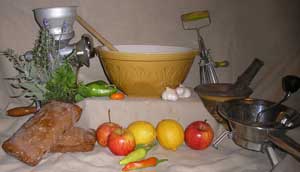 Food is the source of our survival.
And the source of food is the Earth.
Amid the modern-day wave of fast food, processed and packaged commercial offerings we tend to forget this simple fact.
In times past food was precious – our ancestors struggled with food shortages and lack of resources to grow food (such as water, land, climate, 'man-power', etc.).
Everything was appreciated and used fully – nothing was wasted or taken for granted.
Homes had big backyards with an array of vegetables, fruit trees, herbs, chooks, etc……a sharp contrast to today's 'consumer' way of life.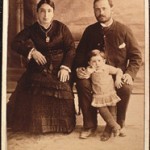 There was a simple appreciation for what the Earth and Mother Nature provided and the resources, time and skills required to bring the food to the table.
People were aware of the type of food they were consuming and what it contained – no additives, no preservatives, no chemicals, just real flavour and real food.
In contrast today's society has disconnected from its 'food roots' and become dependant on commercial offerings and mass production.
In the process sacrificed such things as taste, nutrition and the wholesome component of food.

Practical Kitchen Skills
Vital food preparation skills that were once a part of every household and passed down through family generations are being lost.  With it an appreciation for the simple practical things in life, the joy of preparing food and being appreciated for what we have created.  Making butter, cheese, yoghurt and bread were essential household food skills.
For further information –
Practical Kitchen Skills e-Booklet Set
Kitchen skills of times past – making butter, bread, yoghurt and cheese.
Contains 4 e-booklets: No. 11 - Making Butter, No. 29 – Making Bread, No. 60 - Making Yoghurt, No. 62 - Making Cheese.  (Available for instant download)  Price: $24.00   ADD TO CART
Click here for information about individual e-booklets.
Click here for e-Booklet Set information.
________________________________
Preserving Techniques
Many of the food products we buy today have their origins in food preservation techniques: jams, sauces, baked goods, frozen food, pickled food, drying, canned foods, smoked, salted, cordials, fruit juice, fermenting (wine), distilling, even yoghurt and cheese, were all techniques for preserving or prolonging the keeping time of food so that it could be appreciated for longer or, in some cases, all year round.
For further information -
Old Time Kitchen Skills – Preserving e-Booklet Set
Preserving techniques of the past that transformed food into flavour-some options for long-term keeping – including preserving with recycled jars, homemade sauces and beverages, numerous methods for preserving fruit (jams, conserves, syrups, cordials, fruit cheese, crystallizing, etc.) and old-time methods for storage so that food maintained freshness for maximum duration.

6 e-Booklets:  No. 46  – Preserving Without a Preserving Outfit, No. 52 - Salubrious Sauces, No. 49 - Bringing Back the Beverage,  No. 72 - Drying Food, No. 73 - Food Storage Techniques, No. 74 – Ways with Fruit.  Price: $42.00  (Available for instant download)    ADD TO CART
Click here for e-Booklet Set information.  Click here for information about individual e-booklets.
_________________________________
Making Ends Meet – Improvising in the Kitchen
In
times past food shortages were common – often due to short supply or financial hard times. People became adept at finding and using substitutes or alternatives.
Here are some examples:
Egg substitute for cakes and similar baked items: Bicarbonate of soda
Plain flour into Self-raising Flour – add bicarbonate of soda and cream of tartar to plain flour.
Sour Cream – Add vinegar to plain cream
Food Colouring Substitutes (examples): Beetroot juice – rose or pink colouring. Saffron, turmeric or egg yolk – yellow colouring.  Green colouring – spinach juice
For further information: e-Booklet No. 12 -  Kitchen Improviser  &  e-Booklet or No. 75 - Natural Dyes & Colours. Click here for information about individual e-booklets.
For further information -
Old Time Kitchen Skills – Improvisation e-Booklet Set
Practical money saving options for every household -  general improvising in the kitchen, alternative uses for eggs, make-your-own spice blends, breakfast cereals, coffee alternatives, natural sweeteners and the many uses for stale bread.

8 e-Booklets: No. 12 - Improvising in the Kitchen,  No. 42 – Eggstatic!, No. 53 - Homemade Spice Mixes, No. 54 – International Meals on a Budget, No. 70 - Homemade Breakfast Cereals, No. 64 – Coffee Alternatives, No. 65 – Natural Sweeteners, No. 80 – Uses for Stale Bread.  Price: $69.00  (Available for instant download) ADD TO CART
Click here for e-Booklet Set information.
___________________________________
Herbs in the Kitchen
In times past every garden contained a collection of herbs for culinary and medicinal use. Often it was the only means of incorporating flavour into food – there were no packaged food, or pre-packaged herbs and spices to choose from. Herbs remain today as the most natural way to add flavour and aroma to food. Herbs can be added to cooked dishes as well as salads, condiments, oil, dairy products to infuse flavour and aroma into the base product.  Here are some other examples:
Herbal Vinegar: Herbs and other fragrant plants infused into plain vinegar
Herbal Oil: Herbs, garlic, chilli, peppercorns infused in oil for salads or cooking.
Herbal Butter, Honey or Cheese: Sage butter is wonderful for cooking or homemade cottage cheese with added chives, garlic or parsley for sandwiches.
Bouquet Garni: Small fabric bag containing sprig of thyme, rosemary, parsley and garlic added to stocks, stews and soups.
Dried Herbs: Herbs were dried and stored for later use.
For further information:
Making herbal vinegar and oil – No. 7 – Herbal Oils & Vinegars.
Drying herbs, herbal butter, honey and cheese – No. 61 – Harnessing Herbs.
Herbs in spice mixes and blends including making a bouquet garni – No. 53 – Homemade Spice Mixes
Click here for information about individual publications.
Booklet Set:

'Ways With' e-Booklet Set
Utilizing what's in your garden to the absolute fullest.  You'll be surprised at the many hidden uses for popular herbs, flowers & produce growing right near your back door!
10 titles covering aspects of personal care, cosmetic, health and healing, culinary, cultivation, in the garden, and other uses – lots of useful information and recipes!    'Ways With' – Mint, Parsley, Tomatoes, Lavender, Roses, Zucchini, Rosemary, Thyme, Nasturtiums, Sage.  Price: $96.00  (Available for instant download)  ADD TO CART
Click here for e-Booklet Set information.  Click here for information about individual e-booklets.
Click here for more information about the 'Wonderful World of Herbs'.
___________________________________________________
Workshop

Living in Harmony with the Planet Workshops
Old Time Kitchen Skills
Format: Making butter and yoghurt;  Food preservation techniques: Turning garden produce and plants into: jams, cordials, preserves, etc;   Coping with shortages by finding substitutes;  Homemade (and tasty) food alternatives to commercial products;   Take Home Samples: Homemade butter, homemade curry powder blend, bouquet Garni, sprouts in a recycled jar, plus food sampling.
Available soon as a Workshop@Home - Click Here for  information

Pam's Post
I was brought up in the country with only limited contact with supermarket shopping.  From a young age I helped cook for large groups of shearers and visitors to the farm – we used only what was available at the time. Developing that confidence and skill with cooking and food has been one of the most precious things I have learnt in life.
I now often cook homemade food for friends, meetings, groups, markets and events. People are quite taken with the wholesome flavour of the food on offer. But quite simply, in my humble opinion, there is nothing particularly special about the food – it's just simply 'homemade' using good (and if possible) home grown ingredients – definitely no preservatives and very little 'additives' like sugar and salt to enhance the flavour.
I regularly make my own butter. I have vivid memories from my childhood of my mother milking the cow, then I would have the task of separating the milk from the cream (using an old machine called a 'separator'). My mother would then make butter bright yellow in colour. It was so wonderfully flavoursome.  So from time to time I re-live the experience by making my own home-made butter. To make it softer for spreading I blend either olive or canola oil with the butter.
I preserve fruit – usually peaches, apricots and tomatoes in recycled jars for later use (when not in season). Other excess produce I blanch and freeze for later use. Every year I purchase cherries cheaply late in the season and blanch them for about 3-5 minutes in water before packaging (no sugar necessary) for the freezer.  The flavour of my home preserved cherries with ice cream is to die for!  The wonderful thing about preserving or making your own is that you can adjust the ingredients to suite personal taste or dietary requirements – I'm always careful about sugar content in foods – when making or preserving my own I can lessen the amount of sugar or exclude it entirely from the recipe.
I make my own breakfast cereal using rolled oats, honey, banana, wheat-germ, nuts and dried fruit. It is oven baked with no added sugar – and tastes wonderful!
I'm not the 'world's greatest cook'.  I like my cooking to be quick, no fuss and if possible, successful.  I love to watch cooking programmes but would not have the tolerance or time to spend painstaking hours decorating and making the food 'just right'. My collection of recipes reflect my impatience – all contain minimal ingredients, one simple step to make and preferably in one bowl or dish (saves excessive dish-washing!).
Pam Marshall