Shoppe Publications

e-Booklets
Over 80 titles on various topics including  do-it-yourself, recycling, environmental awareness, natural living, self-sufficiency, safe alternatives (to commercial products) and money saving ideas.
Emphasis on rekindling practical skills and returning to 'the basics' in day-to-day activities.
Booklets are numbered from 1 to 80 for easy reference.
Publication List - quick reference of all The Shoppe e-Booklets
Booklets are 20% cheaper when purchased as a e-booklet set. Click here for more information.
For information on how to purchase all 80 booklets go to end of page e-Booklet Sets

FREE DOWNLOAD: 'The Shoppe' Publication Index: 20 page book – complete alphabetical index for all recipes, topics, alternatives, suggestions, tips and problem solvers in The Shoppe Publications.  Includes quick reference list for ordering publications and how to order all 80 Booklets.   Click on Shoppe Publication Index to download.
Index of Titles
1. Homemade Toothpastes & Mouthwashes | 2. Homemade Deodorants | 3. Simple Soap Making | 4. Making Beeswax Products | 5. Homemade Cleaners and Polishers | 6. Making Whitewash | 7. Herbal Vinegars & Oils | 8. Uses for Essential Oils | 9. Amazing Bicarb – 70 Uses for Bicarb Soda | 10. The Humble Lemon | 11. Making Butter | 12. How To Make Do | 13. Making Simple Salves & Creams | 14. Natural Hair Care | 15. 60 Ways to Recycle a Tin Can | 16. From Waste to Want | 17. Home Paper Making | 18. Homemade Glues, Pastes & Putties | 19. Composting for Beginners | 20. Homemade Insect Repellents & Deterrents | 21. Safe & Organic Sprays | 22. Air-Freshener & Deodorizer Substitutes | 23. Green Cleaning | 24. Back-To-Basics Cleaning | 25. Soap-Making Recipes | 26. Beautiful Hands | 27. Fantastic Feet | 28. Home Flour Grinding | 29. Making Bread | 30. Natural Skin-Care | 31. Ways to Recycle Newspaper | 32. Home-made Envelopes & Other Paper Projects | 33. Versatile Vinegar | 34. Practical Candlemaking | 35. Natural Pet-Care | 36. Recycling & Improvising in the Garden | 37. Beautiful Baths | 38. Sweet Scents | 39. Beginners Flower Pressing | 40. Surviving the Hard Times | 41. Keeping Hens | 42. Eggstatic | 43. Practical Gifts to Make | 44. Home Hair-dressing | 45. Home Distillation of Essential Oils | 46. Preserving Without a Preserving Outfit | 47. Making the Most of Your Soap-saver | 48. Ways to Recycle Plastic Supermarket Bags | 49. Bringing Back the Beverage | 50. Recycling Soap | 51. Use for Eucalyptus Oil | 52. Salubrious Sauces | 53. Homemade Spice Mixes | 54. International Meals on a Budget | 55. Handyman Hints | 56. Lamp Lore | 57. Homemade Incense | 58. Old-time Oatmeal | 59. Caring for Natural Woods and Fibres | 60. Making Yoghurt | 61. Harnessing Herbs | 62. Simple Cheese Making | 63. Making Playtoys from Recycled Materials | 64. Coffee Substitutes | 65. Natural Sweeteners | 66. Back to Basic Pottery | 67. Gift-Giving with a Difference | 68. Ways with Wool | 69. Simple Basketry | 70. Homemade Breakfast Cereals | 71. Natural Hair Dyes & Colours | 72. Drying Food | 73. Food Storage Techniques | 74. Ways with Fruit | 75. Natural Dyes & Colours | 76. Growing Vegetables in Containers | 77. Recycling Rags | 78. Companion Planting in the Garden | 79. Natural Baby Body Care | 80. Uses for Stale Bread | Ways With: Lavender |  Ways With: Roses | Ways With: Mint | Ways With: Parsley | Ways With: Rosemary | Ways With: Thyme | Ways With: Sage | Ways With: Nasturtiums |  Ways With: Tomatoes | Ways With: Zucchini
No. 1 Homemade Toothpastes & Mouthwashes
Commercial tooth-paste contains many dubious chemical additives.  Although it's difficult to make 'tooth-paste' resembling the commercial product – there are many other safe, natural alternatives.  Covers basic procedures for tooth and oral care through to tooth-powders, tooth-pastes and mouthwashes plus some not so commonly known old-time techniques.  All chemical free and easy to make. (Related titles: No. 9 – Amazing Bicarb, No. 10 – The Humble Lemon, Ways With Sage, Ways With Parsley). 17 Pages   Price: $8.00 (Available for instant download) ADD TO CART Back to Index
No. 2   Homemade Deodorants
Aluminium-based commercial anti-perspirants have proven links to health issues.  Anti-perspirants work by inhibiting the flow of sweat.  Deodorants, on the other hand, simply inhibit odour. It's safer to deal with underarm perspiration by focussing on odour rather than inhibiting the natural processes of sweating. Covers: a practical approach, simple  procedures and alternatives for deodorants.  Contains recipes for spray deodorants, deodorant powders & creams using such ingredients as cider vinegar, rice flour, lemon, bicarb soda and herbs.  (Related titles: No. 27 – Fantastic Feet!, No. 9 -Amazing Bi-carb!, No. 7 – Making Herbal Vinegars, No. 33 – Versatile Vinegar, No. 30 – Natural Skin Care) 23 pages  $12.00 (Available for instant download)    ADD TO CART Back to Index
No. 3    Simple Soap-Making
Using just 3 ingredients: lard, caustic soda (lye) and water soap is surprisingly easy to make. This simple method for making soap is similar to Grandma's approach to soap-making. Instructions are step-by-step covering moulds, possible problems, maturation, colouring, scenting, utensils, precautions, history of soap.  Information includes variations to basic recipe for: almond oil soap, oatmeal, honey, herbal, scented, cucumber, sand-soap, antiseptic soap.  (Related titles: No. 25 – More Soap-Making Recipes, No. 50 – Recycling Soap, No. 47 – Making the Most of Your Soap-saver). 17 pages   Price: $12.00 (Available for instant download) ADD TO CART Back to Index
No. 4     Making Beeswax Products
Beeswax is a wonderfully natural medium that has many hidden (and forgotten) uses. It seals, coats, preserves, emulsifies (for polishes and cosmetics), water-proofs and much more. This booklet contains recipes for making furniture polish (various recipes), skin moisturisers and cleansing creams, lipstick, lip salve, beeswax candles, deodorant cream, shoe cleaner, sealing wax, waterproofing medium & more. (Related titles: No. 5 – Homemade Cleaners and  Polishers, No. 13 – Making Simple Salves & Creams). 25 pages   Price: $12.00  (Available for instant download) ADD TO CART Back to Index
No. 5     Homemade Cleaners & Polishers
Suggestions and recipes for restoring "as new" shine to many household items using natural (and cheap) alternatives – such as vinegar, olive oil, cold tea, lemon, linseed, newspaper, Vaseline, beeswax. Covers: Polishing floors, wooden surfaces, glass and mirrors, walls, stove top, shoes/hand-bags, tips for removing polish build-up and more.  (Related titles: No. 59 – Caring for Natural Woods & Fibres, No. 24 – Back-to-Basics Cleaning, No. 23 – Green Cleaning. No. 33 – Versatile Vinegar, No. 4 – Making Beeswax Products). 19 pages.  Price: $8.00 (Available for instant download) ADD TO CART Back to Index
No. 6     Making Whitewash
Natural alternative – used before the advent of commercial paints. Homemade whitewash is safe, low chemical, low irritant and easy to make using ingredients such as: lime, salt, alum, lard, linseed oil & milk. Contains recipes for a variety of different types of whitewash: thin, thick, oil based, sour milk whitewash, includes colouring methods and how to apply whitewash.  17 pages.  $8.00  (Available for instant download)   ADD TO C ART Back to Index
No. 7   Herbal Vinegars & Oils
Vinegar has many uses (as outlined in Booklet No. 33) – however the properties and aroma of vinegar can be enhanced and improved by infusing it with fresh herbs and plants.  It's cheap and very easy to do.  Uses for herbal vinegar are innumerable: culinary, cleaning, deodorising, personal use, skin care. Contains herbs for specific uses and cosmetic vinegars.  (Related titles: No. 33 – Versatile Vinegar, Ways with Herbs: Rosemary, Thyme, Lavender, Mint, Sage). 14 pages.  Price: $8.00   (Available for instant download)  ADD TO CART Back to Index
No. 8      Uses for Essential Oils
Covering  the many uses for essential oils – perfuming, therapeutic, deodorising, cleaning, household uses, insect repelling. Includes section on 'make-your-own' perfume blends. Outlines the difference between fragrant and essential oils.  (Related titles: No. 45 – Home Distillation of Essential Oils, No. 38 – Sweet Scents, No. 61 – Harnessing Herbs plus many other titles that have recipes including essential oils, No. 51 – Uses for Eucalyptus Oil, No. 22 – Homemade Air-fresheners, No. 57 – Homemade Incense). 26 pages   Price: $12.00  (Available for instant download)   ADD TO CART Back to Index
No. 9    Amazing Bicarb – 70 Uses for Bicarb Soda
A practical, money-saving guide on the multitude of uses for bicarb soda – from deodorising, whitening, cleaning, scouring – whether it be household, personal or in the garden. You'll be surprised and save heaps on commercial products.  Includes recipes for carpet deodorant, shoe deodorant, tooth-powder, scalp toner, powder cleanser, flea repellent.  (Bicarb Soda has so many uses mentioned in nearly every booklet – hair-care, deodorants, cleaning, deodorising, teeth-care, kitchen improviser – too many to list!) 19 pages   Price: $8.00     (Available for instant download) ADD TO CART Back to Index
No. 10   The Humble Lemon
The most useful of garden produce – for cleaning, bleaching, deodorising, disinfecting, hair-care, whitening, stain removal, teeth-care, personal deodorant, skin-care and more.  All totally chemical-free!  If you have a lemon tree this booklet will be very useful.  Contains numerous tips and suggestions along with recipes for lemonade, lemon butter, preserved lemon juice, salted lemons, candied lemon peel and lemon hand lotion.  (Related titles: Lemons feature strongly in so many other booklets - too many to mention here!) 18 pages  Price: $8.00 (Available for instant download)    ADD TO CART Back to Index
No. 11     Making Butter
Practical approach to butter-making. Includes: types of cream suited to making butter, storing butter, flavouring butter, butter extenders, uses for buttermilk – including in skin-care (in times past buttermilk was considered very therapeutic). (Related titles: No. 62 – Making Cheese, No. 60 – Making Yoghurt). 13 pages   Price: $8.00  (Available for instant download)  ADD TO CART Back to Index
No. 12     How To Make Do
In times past frugality and improvising were an important part of a productive kitchen.  This booklet contains some of Grandma's useful 'how to' information: how make custard without custard powder, gravy without gravy powder, homemade salad dressing, egg substitutes, how to make SR flour from plain flour, souring cream, yeast substitutes, mock cream, icing substitutes and much more. (Related titles: No. 73 – Food Storage Techniques, No. 74 – Ways With Fruit, No. 49 – Bringing back the Beverage, No. 52 – Salubrious Sauces, No. 80 – Ways to Use Stale Bread). 23 pages.  Price: $12.00   (Available for instant download).  ADD TO CART Back to Index
No. 13     Making Simple Salves & Creams
Basic step-by-step procedure for making both a face cream and lip salve.  Contains: the difference between a salve and cream, lip salve and cream recipes (with flavour variations), two methods for making a herbal or rose skin cream, making lip-stick, problems, precautions, how to make a herbal infusion, suitable herbs for skin care products.  (Related titles: No. 30 – Natural Skin Care, No. 4 – Making Beeswax Products). 15 pages   Price: $8.00 (Available for instant download)   ADD TO CART Back to Index
No. 14    Natural Hair Care
Many shampoos and conditioners are chemically based and in some cases detrimental to healthy hair – this booklet offers natural options – many derived from grandma's era.  Includes natural recipes for shampoos, conditioners, rinses, herbs for hair care, specific hair problems: dandruff, oily hair, baldness, graying hair, frizziness. Covers dry shampoos, hair spray and hair setting lotions plus much more.   (Related title: No. 71 – Natural Hair Dyes & Colours, No. 44 – Home Hair-dressing) 22 pages   Price: $12.00 (Available for instant download)    ADD TO CART Back to Index
No. 15     60 Ways to Recycle a Tin Can
Many interesting options for utilising the humble tin can: such as canisters and containers, candle-holders, plant containers, fruit picker, musical instruments, children's toys, Christmas decorations, make-shift camping and kitchen equipment, seed collector, soap-saver, utensil holder, drip watering system and many more money saving ideas. (Related titles: No. 15 – 50 Ways to Recycle a Tin Can, No. 31 – 50 Ways to Recycle Newspaper, No. 77 – Recycling Rags, No. 48 – 60 Ways to Recycle Plastic Supermarket Bags). 21 pages   Price: $12.00  (Available for instant download)   ADD TO CART Back to Index
No. 16.     From Waste to Want
70 Innovative Ways to Recycle Household Waste.   Includes various uses for discarded paper and cardboard, plastic wrap and bags, re-using food, egg cartons, rubber gloves, plastic containers, glass bottles and jars, cork, matchboxes, aluminum foil – even oven mitts, old cutlery and other discarded kitchen equipment. (Related titles: No. 16 – From Waste to Want, No. 31 – 50 Ways to Recycle Newspaper, No. 77 – Recycling Rags, No. 48 – 60 Ways to Recycle Plastic Supermarket Bags). 25 pages  Price: $12.00 (Available for instant download) ADD TO CART Back to Index
No. 17     Home Paper Making
Comprehensive coverage on making paper. For beginners and advanced – includes creative techniques, (improvised and home-made) paper-making frames, paper-making from discarded paper, recycled fibres or plant material. Plus handy hints, possible problems, colouring techniques, sizing. (Related titles: No. 32 – Homemade Envelopes and other paper projects, No. 63 – Making Children's Play-toys from Recycled Materials). 25 pages  Price: $12.00   ADD TO CART Back to Index
No. 18      Homemade Glues, Pastes & Putties
Various safe and chemical free (or low chemical) recipes and ideas – children's play glue, starch pastes, office glue, improvised glue stick, glues for mending porcelain and china, wood glue, homemade putties, obtaining glues and resin from trees and plants. Contains methods from past times that have long been forgotten.  (Related titles: No. 55 – Handyman Hints). 20 pages  Price: $8.00 (Available for instant download)   ADD TO CART Back to Index
No. 19   Composting for Beginners
Easy to follow and concise information for people new to the art of composting.  Covers various methods for composting, container options (commercial or recycled), how to make compost, uses and trouble-shooting. Related title: No. 36 Recycling & Improvising in the Garden, No. 78 – Companion Planting, No. 76 – Growing Tomatoes in Containers) 13 pages  Price: $8.00  (Available for instant download)   ADD TO CART Back to Index
No. 20     Homemade Insect Repellents & Deterrents
All natural safe methods using common household resources.  Covers: ants, cockroaches, fleas & mites, flies, mice, mosquitoes, moths, silverfish, weevils.  Presented in two stages: Prevention/deterring and/or extermination. Includes recipes and suggestions for personal insect repellents.  27 pages   Price: $12.00 (Available for instant download)  ADD TO CART Back to Index
No. 21      Safe & Organic Sprays
Easy-to-Make sprays using common household ingredients. Covers sprays for cleaning, insect repelling, disease prevention (plants), plant nourishment  using such sources as: lemon juice, vinegar, eucalyptus oil, citronella, onion, garlic, milk, chilli, soap, pepper, coffee, flour, herbs, seaweed, bicarb soda and more!   (Related titles: No. 22 – Homemade Air-Fresheners & Deodorisers, No. 20 – Natural Insect Repellents). 19 pages.  Price: $12.00  (Available for instant download)  ADD TO CART Back to Index
No. 22     Air-Freshener & Deodorizer Substitutes
Suggestions for deodorising the home cheaply and naturally without using expensive, chemically-laced commercial air-fresheners or energy consuming devices – pot pourri, natural flowers and plants, lemons, vinegar, incense, essential oils, candles, etc. Contains recipes for homemade air-freshener sprays. (Relevant titles: No. 57 –  Homemade Incense, No. 33 – Versatile Vinegar, No. 8 – Uses for Essential Oils) 15 pages.  Price: $8.00  (Available for instant download)  ADD TO CART Back to Index
No. 23     Green Cleaning
Alternatives  for commercial cleaning products using four basic ingredients: bicarb soda, vinegar, eucalyptus oil and pure soap. Covers an array of common commercial products and lists what can be used 'instead of'.  Safe, economical, practical and good for the planet! Includes quick reference Green Cleaning Chart. Recipes for: soap jelly, surface spray, oven cleaner, disinfectant, carpet deodoriser, heavy duty scouring paste, air-freshener spray. (Related titles: No. 24 – Back-to-Basics Cleaning, No. 33 – Versatile Vinegar, No. 9 – Amazing Bicarb, No. 51 – Uses for Eucalyptus Oil, No. 50 – Recycling Soap. 22 pages  Price: $12.00 (Available for instant download) ADD TO CART Back to Index
No. 24     Back-To-Basics Cleaning
More cleaning alternatives using common household products (such as salt, olive oil, tea leaves, borax, methylated spirits, mustard, toothpaste, talcum powder), miscellaneous suggestions (including how to restore shrunken woollens, clean difficult bottles and jars, removing burn marks from wood). Many from Grandma's day when improvisation was the way!  (Related titles: No. 23 – Green Cleaning, No. 33 – Versatile Vinegar, No. 9 – Amazing Bicarb, No. 51 – Uses for Eucalyptus Oil, No. 50 – Recycling Soap). 14 pages   Price: $8.00 (Available for instand download)    ADD TO CART Back to Index
No. 25     Soap-Making Recipes
Follow-on booklet from No. 3 – Simple Soap-Making – containing more recipes and ideas for making soap. Covers: glycerin soap, chamomile & milk, lanolin, borax, heavy duty cleaning soap, soap without animal products, soap without caustic soda, rich rose soap and more.  (Related title: No. 50 – Recycling Soap) 23 pages  Price: $12.00 (Available for instant download)   ADD TO CART Back to Index
No. 26     Beautiful Hands
Covers practical suggestions for protecting hands;  non-detergent and non-soap based hand cleansers;  removing odours and stains, hand lotions, moisturisers and creams including recipes for honey hand lotion and beeswax hand cream.  (Related titles: No. 30 – Natural Skin Care, No. 13 – Making Simple Salves and Creams, No. 58 – Old-time Oatmeal, No. 27 – Fantastic Feet!) 12 pages  Price: $8.00 (Available for instant download)   ADD TO CART Back to Index
No. 27     Fantastic Feet
Natural ways to keep your feet looking and feeling good. Covers basic foot care – practical suggestions for maintaining healthy feet, dealing with common ailments: swollen feet, corns, blisters, smelly feet, tinea, cold, tired and sore feet.  Recipes for: foot balm, massage oil, herbal food powder.  (Related titles: No. 26 – Beautiful Hands, No. 30 – Natural Skin Care, No. 2 – Homemade Deodorants). 19 pages  $8.00 (Available for instant download)   ADD TO CART Back to Index
No. 28     Home Flour Grinding
Covers various types of grinders available (manual, electric, stone or burr), grinding methods, grains, weevil prevention, cooking with home ground flour, plus recipe for whole-wheat chocolate cake. (Related titles: No. 29 – Making Bread, No. 58 – Old-time Oatmeal) 16 pages  $8.00 (Available for instant download)   ADD TO CART Back to Index
No. 29     Making Bread
(The old-fashioned way – before the advent of bread-makers!). Covers: the flour, yeast (including yeast substitutes), kneading, proving, basic bread recipe with variations: rye, mixed grain, malt, mixed seed, spicy, cheese, sour-dough, pitta, chapati, pumpkin, corn-bread, fruit, and more. (Related titles: No. 28 – Home Flour Grinding, No. 58 – Old-time Oatmeal, No. 71 – Homemade Breakfast Cereal, No. 80 – Ways to Use Stale Bread). 17 pages   Price: $8.00   (Available for instant download).  ADD TO CART Back to Index
No. 30     Natural Skin-Care
Natural economical alternatives to commercial skin-care products. Part 1:  Using 5 basic ingredients: oatmeal, vinegar/lemon, herbs, almond oil and beeswax/honey for all your skin care  requirements – cleansers, scrubs, masks, astringents, toners and moisturiser.  Part 2: Other alternatives – using what's available in the garden or kitchen. Numerous recipes for cleansing creams, moisturisers, masks, scrubs,   astringents and cleansers.  Includes herbs suited to skin type and making a herbal infusion. (Related titles: No.13 – Making Simple Salves and Creams, No. 58 – Old-Time Oatmeal, No. 7 – Herbal Vinegars, No. 79 – Baby Body  Care). 25 pages    Price: $12.00 (Available for instant download) ADD TO CART Back to Index
No. 31     50 Ways to Recycle Newspaper
Many innovative, money saving suggestions: making fire starters, fire bricks, eradicating earwigs from the garden, protective covers, packing material, children's activities,  clean-up material, making a hay-box, cleaning, flower-pressing, foot warmer, garden mulch, wrapping paper, recycling to make homemade paper and lots more.  Why purchase expensive commercial items when recycled materials can do the job cheaply and effectively?  (Related title: No. 17 – Home Paper Making, No. 32 – Homemade Envelopes & other Paper Projects). 17 pages  $8.00 (Available for instant download) ADD TO CART Back to Index
No. 32     Home-made Envelopes & Other Paper Projects
Ways to recycle discarded computer paper. Includes template and instructions for making envelopes, DVD storage packets, note-pads, books, paper beads – all using recycled computer paper. (Related title: No. 17 – Home Paper Making). 16 pages   Price: $8.00 ADD TO CART Back to Index
No. 33     Versatile Vinegar
The most useful and versatile of household ingredients.  A mild acidic agent  that disinfects, cleans, deodorises, anti-bacterial, flavours and even curdles and sours (dairy products).  Contains suggestions for cleaning, culinary uses, preserving, hair-care, personal care products, skin care, garden use and so much more.  You'll be amazed. Many recipe ideas including disinfectant and how to make vinegar including cider vinegar.  (Related titles: No. 7 – Making Herbal Vinegars plus many other booklets that utilize vinegar as a recipe ingredient – too many to mention here!). 16 pages  Price: $8.00 (Available for instant download)    ADD TO CART Back to Index
No. 34     Practical Candlemaking
Making candles cheaply from recycled materials. Covers history of candles, wax mediums, wicks, colouring techniques, scenting, moulds (including using recycled materials), how to insert the wick and set up moulds for candle making, various creative alternatives for candles. Great money saving ideas.   (Related title: No. 4 – Making Beeswax Products). 22 pages  Price: $12.00 (Available for instant download)    ADD TO CART Back to Index
No. 35     Natural Pet-Care
Chemical free, money saving and practical. Includes homemade dog and cat food, dog biscuits, healthy food options, making a birdseed cake, natural insect repellents, homemade flea collar, deterring pets from the garden (and furniture!), dealing with bad breath, puppy care, fur-balls, and more. (Related titles: No. 20 – Natural Insect Repellents). 23 pages.  Price: $12.00   (Available for instant download)  ADD TO CART Back to Index
No. 36     Recycling & Improvising in the Garden
Creating an environmentally friendly garden, recycling and re-using household items in the garden: such as newspaper, tin cans, plastic containers, egg cartons, old garden hose, car tyres, buckets, curtain material and netting!  Deals with soil enrichment, repelling insects, water saving. (Related titles: No. 19 – Composting for Beginners, No. 21 - Safe Organic Sprays for Home and Garden, No. 78 – Companion Planting, No. 76 – Growing Tomatoes in Containers).  25 pages.  Price: $12.00   (Available for instant download)   ADD TO CART Back to Index
No. 37     Beautiful Baths
Recipes and suggestions for bath-time. Covers bath-salts (scented, unscented, therapeutic, lemon bath salts using fresh lemons), bath oils (for healing & perfuming), bath vinegar, scented and floral waters, homemade eau-de-cologne, bath bags, bubble-bath and various other suggestions for bath additives, bath-bombs.  (Related titles: No. 30 -Natural Skin Care, No. 27 – Fantastic Feet!). 23 pages   Price: $12.00 (Available for instant download)   ADD TO CART Back to Index
No. 38    Sweet Scents
Wonderful things to do with dried flowers and pot pourri.  Including recipes for a variety of pot pourri blends, scented bags and sachets, perfumed oils, scented water, simmering pot pourri and wet pot pourri.  Outlines basics for making pot pourri with numerous recipes and variations for perfuming, therapeutics and relaxation.  (Related titles: No. 22 – Homemade Air-Fresheners, No. 57 – Homemade Incense, No. 8 – Uses for Essential Oils). 23 pages   Price: $12.00 (Available for instant download)   ADD TO CART Back to Index
No. 39     Beginners Flower Pressing
Covers basic procedures and techniques for flower pressing. Includes how to make a flower press, types of flowers and plants, drying time and numerous uses for pressed flowers. (Related Titles: No. 38 – Sweet Scents, No. 17 – Home Paper Making). 13 pages.  Price: $8.00  (Available for instant download).  ADD TO CART Back to Index
No. 40    Surviving the Hard Times
How to save money and cut corners during the hard times. Coping with a money shortages is a skill learned through experience.  This booklet offers a comprehensive collection of survival hints and tips.  A welcome relief when money is tight. Includes: shopping tips, finding alternatives, handy hints for survival and psychological strategies.  (Related titles: Every booklet contains information about saving money and doing it on the cheap – too many to list here!) 23 pages   Price: $12.00 (Available for instant download)   ADD TO CART Back to Index
No. 41     Keeping Hens
8-point check-list for new-comers to the field of keeping hens. Covers: assessing council, neighborhood and financial restrictions and conditions, factors involved in keeping hens, management strategy, hen housing, food, types of breeds, feeding and watering arrangements plus ongoing commitments.  (Related titles: No. 42 – Eggastatic!) 15 pages  Price: $8.00 (Available for instant download)   ADD TO CART Back to Index

No. 42     Eggstatic
In past times every backyard contained a few hens for supply of eggs for the household.   Over-supply was often a common – as a result people found quite ingenious things to do with eggs. This booklet is all about eggs – from cooking with eggs, health and healing, skin care, preserving & pickling, storing, egg substitutes, Contains many recipes , hints, forgotten information and creative uses! (Related title: No. 41 – Keeping Hens, No. 12 – Improvising in the Kitchen).   25 pages   Price: $12.00 (Available for instant download)   ADD TO CART Back to Index
No. 43     Practical Gifts to Make
Easy to make and money saving gift ideas using recycled materials - suited to adults and children – clothes peg memo holder, rock paper weights, fridge hooks (using can pull rings), book mark from hair clips, kitchen message pad, perfumed beads, sewing kit, bread jewellery, pomanders, Australian Bush Pot Pourri, pot plant from avocado seed and much more.  (Related titles: No. 67 – Gift-Giving with a Difference, No. 16 – From Waste to Want, No. 15 – 50 Ways to Recycle a Tin Can). 25 pages   $12.00  (Available for instant download)    ADD TO CART Back to Index
No. 44 – Home Hair-dressing
Practical approach to hair styling and cutting. Covering: cutting techniques, different styles, equipment, styling, blow drying, men's cuts, includes making a hair-dressers cape and hair scrunchies & hair band. Save money on hair-cuts for the whole family! (Related titles: No. 14 – Natural Hair Care, No. 71 -  Natural Hair Dyes & Colours) 22 pages   Price: $12.00 (Available for instant download)   ADD TO CART Back to Index
No. 45     Home Distillation of Essential Oils
Essential oils purchased commercially are expensive. This booklet covers simple home-based techniques for extracting essential oils from your own garden using herbs and flowers.  Covers: basic techniques, suitable flowers & plants, special blends, recipes for homemade eau-de-cologne, perfumed water.  (Related title: No. 8 – Uses for Essential Oils, No. 61 – Harnessing Herbs, Ways With – Roses, Lavender, Sage, Thyme, Rosemary) 27 pages   Price: $12.00 (Available for instant download) ADD TO CART Back to Index
No. 46     Preserving Without a Preserving Outfit
Easy-to-follow 5-step method for preserving fruit (and tomatoes) cheaply and sensibly using recycled jars (the common metal lid type). No need for an expensive preserving out-fit – minimal equipment required (large stock pot and food thermometer).   (Related titles: No. 74 – Ways with Fruit, No. 52 – Salubrious Sauces). 13 pages   Price: $8.00 (Available for instant download) ADD TO CART Back to Index
No. 47     Making the Most of Your Soap-saver
Quick & easy way to use a bar of soap or soap scraps. Soap-savers were common kitchen equipment in times past – but with the advent of detergents they are no longer so common.  Commercially produced soap-savers are difficult to locate, this booklets offers suggestions for alternatives using recycled kitchen equipment. Also covers: ways to use soap-savers and advantages.  (Related titles: No. 23 – Green Cleaning, No. 24 – Back-to-Basics Cleaning, No. 50 – Recycling Soap, No. 3 – Simple Soap-Making).   15 pages  Price: $8.00 (Available for instant download)    ADD TO CART Back to Index
No. 48     60 Ways to Recycle Plastic Supermarket Bags
Dealing with these environmental menaces by recycling and re-using. Contains a huge array of suggestions: storage in the home, garden, garage or work-shed, liners, crochet to make head-wear, protective covers, seed collection, cleaning, as ties (cut into sections), plaiting to form rope, hair-care, ripening fruit …. even freshening fruit cake!  (Related titles: No. 16 – From Waste to Want, No. 15 – 50 Ways to Recycle a Tin Can, No. 31 – 50 Ways to Recycle Newspaper, No. 48 – 60 Ways to Recycle Supermarket Bags). 19 pages   Price: $8.00  (Available for instant download).  ADD TO CART Back to Index
No. 49     Bringing Back the Beverage
With the advent of the cool drink industry the 'art' of home beverage making has fallen by the wayside.  This booklet rejuvenates common homemade drinks such as: barley water, beef tea, ginger beer, eggnog, egg-flip, fruit punch, cider, lemonade, cordial, almond milk, billy tea and more.  (Related titles: No. 74 – Ways with Fruit – contains info about making cordials) 16 pages  Price: $8.00 (Available for instant download)    ADD TO CART Back to Index
No. 50     Recycling Soap
Transforming a simple bar of soap into a array of safe, environmentally friendly products – either in the form of grated soap or soap jelly. Contains recipes for:  rose liquid hand soap, lemon dish-washing soap, rosemary & lavender hair shampoo, soap-based garden spray, wash-balls, heavy-duty cleansing powder, soap-bags, old English wash-balls, 'gourmet soaps' (pet soap, honey soap, etc.), beeswax polish (containing soap) and other interesting uses.  You'll be amazed at the things that can be done with a simple bar of soap – including making putty, poultice and as drawer liner. (Related titles: No. 3 – Simple Soap-Making, No. 25 – More Soap-Making Recipes, No. 23 – Green Cleaning, No. 47 – Making the Most of Your Soap-saver). 26 pages   Price: $12.00 (Available for instant download)   ADD TO CART Back to Index
No. 51     Uses for Eucalyptus Oil
Unique to Australia this popular essential oil  has innumerable uses – cleaning, disinfecting, stain removal, insect repelling, medicinal, therapeutic, personal use, softens glues, gum and more. Environmentally friendly and safe to use in small amounts. Includes methods for extracting eucalyptus oil from leaves.  (Related titles: No. 23 – Green Cleaning, No. 45 – Home Distillation of Essential oils). 15 pages   Price: $8.00 (Available for instant download)     ADD TO CART Back to Index
No. 52 Salubrious Sauces
Fill your recycled glass bottles with an array of luscious and flavour-some homemade sauces. Recipes for tomato sauce, Worcestershire, sweet chilli, Chinese plum, barbecue, mint, pasta/pizza sauce, sweet & sour, black bean and more.  Contains instructions for sterilizing bottles and jars.  (Related titles: No. 74 – Ways with Fruit, No. 46 – Preserving Without a Preserving Outfit). 17 pages   Price: $8.00 (Available for instant download)     ADD TO CART Back to Index
No. 53     Homemade Spice Mixes
Alternatives to commercial preparations. Make your own personal blends according to taste. Save money. Covers: powder blends and pastes: including potato wedge mix, Cajun, various curry blends, seasoned salt, herb seasoning, lemon pepper, mixed spice, tandorri, Mexican, Chinese five spice, Moroccan – over 30 different  recipes. (Related title: No. 12 – Kitchen Improviser). 25 pages   Price: $12.00 (Available for instant download)     ADD TO CART Back to Index
No. 54     International Meals on a Budget
Collection of recipes for making various international meals – easily and cheaply. Menus for: Middle Eastern, Indian, Mexican, Chinese, Italian, Malaysian, North American, British and more.  All meatless – a cheaper option than meat.  Many great family meals. (No. 53 – Homemade Spice Mixes) 23 pages   Price: $12.00 (Available for instant download)     ADD TO CART Back to Index
No. 55 – Handyman Hints
Contains: environmentally-friendly ideas for the shed, garage, carport.  Covers: ways to remove difficult stains (car oil, rust, mildew, stains on brick surfaces), polishing, water-proofing (canvas, shoes, boots), natural treatments and techniques for wood, recycling, glue alternatives, car care, etc.  (Related titles: No. 23 – Green Cleaning, No. 33 – Versatile Vinegar, No. 4 – Making Beeswax Products, No. 5 – Homemade Polishers and Cleaners, No. 18 – Homemade Glues, Pastes & Putties)). 26 pages   Price: $12.00 (Available for instant download)    ADD TO CART Back to Index
No. 56     Lamp Lore
Useful and practical information (some long forgotten!) on oil-based or kerosene lanterns.  Includes: parts and workings of lanterns, general care, fuel, wicks, wick trimming (for best flame/lighting), improvised wicks, lamp problems.  (Related title: No. 8 – Uses for Essential Oils)
No. 57     Homemade Incense
Creating fragrances naturally for perfuming and therapeutic uses. Covers various incense-making techniques – from simple powders, to shaped incense and longer-burning charcoal based incense.   No chemicals – all ingredients from natural sources.   (Related titles: No. 38 – Sweet Scents, No. 61 – Harnessing Herbs, No. 8 – Uses for Essential Oils) 15 pages   Price: $8.00 (Available for instant download)     ADD TO CART Back to Index
No. 58     Old-time Oatmeal
Used in earlier times oatmeal is a valuable and versatile agent that has many uses. Including: skin-care, gentle cleaner for soft fabrics, water softener, hair-care, baby-care, dealing with minor skin conditions, cooking, plus many other uses. Contains recipes for facial cleansers and scrubs, skin-care, baby-care, oatmeal breakfast cereals, biscuits and so much more!  It's cheap, natural (chemical free), healthy, very soft and gentle - plus Australian produced!  (Related titles: No. 24 – Back-to-Basic Cleaning, No. 30 – Natural Skin-Care, No. 70 – Homemade Breakfast Cereals, No. 79 – Natural Baby Body Care). 21 pages   Price: $12.00 (Available for instant download)   ADD TO CART Back to Index
No. 59 – Caring for Natural Woods and Fibres
Many natural mediums such as wood respond best to specific types of care and cleaning methods. This booklet covers an array of natural woods, cane, camphorwood, bamboo, sea-grass. cork, canvas, wool, etc and gives recipes and ideas for cleaning, polishing and rejuvenating. Useful information not so commonly known with the advent of commercial cleaning products and the popularity of synthetic materials. (Related titles: No. 23 – Green Cleaning, No. 5 – Homemade Polishers & Cleaners) 19 pages. Price: $8.00 (Available for instant download) ADD TO CART Back to Index
No. 60 Making Yoghurt
Making yoghurt at home from the very basics (using a thermos). Covers low fat yoghurt, powdered milk yoghurt, flavouring yoghurt (naturally), the many uses for yoghurt: therapeutic, cosmetic (skin & hair care) and culinary. Includes dealing with problems in yoghurt-making. (Related titles: No. 11 – Making Butter, No. 63 – Making Cheese, No. 14 – Natural Hair-care, No. 30 – Natural Skin Care). 19 pages Price: $8.00 (Available for instant download) ADD TO CART Back to Index
No. 61 Harnessing Herbs
Techniques for making use of and harnessing the potent properties of herbs and plants to appreciate all year round. Covers: growing and harvesting plus infusion, maceration, decoction and drying techniques. Recipes for: cosmetic waters & vinegar, culinary oils, infusions, herbal products (honey, butter, cheese), bath oils, and more. (Related titles: No. 45 – Home Distillation of Essential Oils, No. 7 – Herbal Vinegars, No. 8 – Uses for Essential Oils, No. 37 – Beautiful Baths, Ways With – Rosemary, Thyme, Parsley, Sage, Mint) 32 pages $12.00 (Available for instant download) ADD TO CART Back to Index
No. 62 Simple Cheese Making
Simple cheese making techniques for the beginner. Covers: cottage, hard, goat's, cream cheese, ricotta, haloumi, yoghurt-based cheese, milk, activators, whey, cheesy hints, storage. (Related titles: No. 11 – Making Butter, No. 60 – Making Yoghurt, No. 12 – How to Make Do). 18 pages $8.00 (Available for instant download) ADD TO CART Back to Index
No. 63 Making Playtoys from Recycled Materials
Recycling disused materials to create an array of play-things for children at next to nothing cost.  Covers using: cardboard cartons, old sheets & bedding, paper bags, ice-cream and margarine containers, rubber tyres, tin cans and lots more.  (Related titles: No. 16 – From Waste to Want, No. 15 – 50 Ways to Recycle a Tin Can, No. 31 – 50 Ways to Recycle Newspaper, No. 32 – Homemade Envelopes & Other Paper Projects, No. 17 – Home Paper Making, No. 34 – Practical Candle-making). 21 pages   $12.00  (Available for instant download)   ADD TO CART Back to Index
No. 64 Coffee Substitutes
Making coffee from natural alternatives. In times past when coffee was not yet commercially cultivated (and in short supply) people became adept at creating 'coffee alternatives' from such things as chicory, dandelion, sweet potato, beetroot, peas – all roasted similar to coffee – all covered in this booklet. (Related titles: No. 49 – Bringing back the Beverage, No. 80 – Ways to Use Stale Bread). 15 pages  $8.00 (Available for instant download) ADD TO CART Back to Index
No. 65 Natural Sweeteners
Most people consider 'alternatives to sugar' to be chemically orientated artificial sweeteners.  But there are many other natural substitutes (with low G.I.) healthier than refined sugar.  Covers: raw honey, natural fruit sources of sugar, sugarless cakes, jams without sugar, sugar-beet, maple syrup, sorghum, rice syrup, barley malt syrup and stevia.  Includes many recipes.  (Related titles: No. 74 – Ways with Fruit, No. 12 – How to Make Do, No. 70 – Homemade Breakfast Cereal, No. 49 – Bringing Back the Beverage) 22 pages    $12.00    (Available for instant download) ADD TO CART Back to Index
No. 66 Back-to-Basic Pottery
Emphasis on basic pottery techniques – finding clay naturally, home firing, natural techniques for moulding, texturing, colouring. Methods for making clay beads, flute, ocarina and decorative practices of past cultures.   24 pages   Price: $8.00 (Available for instant download) ADD TO CART Back to Index

No. 67  Gift-Giving with a Difference
Unique hand-made gifts that relay a special environmental message from the giver to receiver.  Includes: English wash balls, citrus & rose cologne, bath vinegar, rose hand wash, body powder, foot powder, Grandpa's shoe polish, Honey lip balm and much more .  (Related titles: No. 63 – Practical Gifts to Make, No. 50 – Recycling Soap). 27 pages   Price: $12.00  (Available for instant download). ADD TO CART Back to Index
No. 68 Ways with Wool
Creative things to make & do with wool and wool scraps (for non-knitters) – such as: pom-poms, Mexican Prayer bowls and collages, belts, pot stand, star weaving, picture weaving, cotton reel 'knitting', woollen jewellery and accessories,  woolen tassels, children's wooly octopus, and more.  (Related titles: No. 77 – Recycling Rags)   23 pages   Price: $8.00 (Available for instant download) ADD TO CART Back to Index
No. 69 Simple Basketry
How to make natural environmentally friendly alternatives to plastic, cardboard and paper containers! Emphasis on basketry from the basics: finding the raw material, simple weaving techniques – including methods practiced by past cultures, suitable plants (cane, willow, ivy, Australian plants), soft basket weaving (rushes and reeds), tools, and more.  24 pages   Price: $8.00 (Available for instant download) ADD TO CART Back to Index
No. 70 Homemade Breakfast Cereals
Healthy, cheap & easy alternatives to expensive commercially-made breakfast cereals. It has  been said that there are more nutrients in the cardboard box than the cereal itself!  Cereal made at home with all natural ingredients is tastier, healthier and cheaper!  Recipes for: cooked and uncooked muesli, mixed cereal blends, toasted muesli, porridge, granola, corn crumbles, puffed rice, creamed rice, cracked wheat, polenta, yogi rice, whole wheat porridge and more.  (Related titles: No. 58 – Old-time Oatmeal) 15 pages    $8.00    (Available for instant download) ADD TO CART Back to Index
No. 71 Natural Hair Dyes & Colours
Commercial hair dyes contain powerful chemicals – this booklet offers safe, cheap and easy-to-make chemical free alternatives to commercial hair dyes and colours using natural materials. Covers: hair rinses & dyes using such ingredients as: sage, chamomile, lemon juice, rhubarb, black tea, coffee, turmeric, red wine, hibiscus, henna and more. (Related titles: No. 14 – Natural Hair Care, No. 44 – Home Hair-dressing, No. 10 – The Humble Lemon, No. 61 – Harnessing Herbs, No. 75 – Natural Colours and Dyes) 19 pages   $12.00 (Available for instant download)   ADD TO CART Back to Index
No. 72 Drying Food
The oldest form of food preservation is drying. Covers: various techniques for drying, types of food, solar-drying (sun), oven drying, equipment, storage, making a dryer from recycled materials. Includes recipes for: quick sun-dried tomatoes and fruit leathers.  (Related titles: No. 74 – Ways with Fruit, No. 46 – Preserving Without a Preserving Outfit, No. 52 – Salubrious Sauces) 21 pages   $12.00   (Available for instant download) ADD TO CART Back to Index
No. 73 Food Storage Techniques
Techniques for prolonging the storage time of food.  Before the advent of supermarkets, frozen produce and refrigeration the know-how of storing food so that it keeps for as long as possible was crucial to survival.  This book covers: storing fresh produce, good storage sense in the home pantry, food storage of the past, underground storage, coolgardie safe.  (Related titles: No. 74 – Ways with Fruit, No. 46 – Preserving Without a Preserving Outfit, No. 49 – Bringing back the Beverage, No. 72 – Drying Food) 17 pages   $8.00   (Available for instant download) ADD TO CART Back to Index
No. 74 Ways with Fruit
Various methods for preserving fruit – syrups, cordials, jams, conserves, pickling, glacé, chutneys, conserves, curds, butters, fruit cheese, freezing, candying, crystallizing, pickling.  Both modern day and old techniques.  Recipes include: rose petal jam, orange marmalade, fig and plum jams, lemon cordial, pickled zucchini and tomato chutney.  (Related titles: No. 46 – Preserving Without a Preserving Outfit, No. 49 – Bringing back the Beverage, No. 72 – Drying Food, No. 52 – Salubrious Sauces) 25  pages   $12.00 (Available for instant download)  ADD TO CART Back to Index
No. 75 Natural Dyes & Colours
Colouring and dyeing suggestions for fabrics and food. Covers method for dyeing, collecting plant material (types of plants), extracting the dye, preparing the fabric, dyeing with tea, coffee, fruits & vegetables & natural food colourings derived from an array of safe food sources. (Related titles: No. 71 – Natural Hair Colours & Dyes, No. 61 – Harnessing Herbs, No. 45 – Home Distillations of Essential Oils) 22 pages   $12.00 (Available for instant download)   ADD TO CART Back to Index
No. 76 Growing Vegetables in Containers
Step by step guide for growing vegetables cheaply and easily in recycled containers. A 'fool-proof' way to help you get started in producing a successful first crop of vegetables. (Related titles: Ways With Tomatoes, No. 78 – Companion Planting, No. 36 – Recycling & Improvising in the Garden, No. 21 – Homemade Organic Sprays, No. 19 – Composting for Beginners) 14 pages   Price: $8.00 (Available for instant download) ADD TO CART Back to Index
No. 77 Recycling Rags
Covers simple recycling techniques to the more complex. Suited to the craft person and non-craft person. Topics include: General recycling, New clothing from old, Sewing techniques, Non-sewing techniques, Ideas for children, Special techniques (weaving, plaiting, hooking, pegging, patch-work, quilting, appliqué). Contains instructions for making clutch-bags, bandana, hair scrunchy, draught-stopper, carry bag from old jeans, bath-bags and more.   23 pages   $12.00   (Available for instant download)    ADD TO CART Back to Index
No. 78 Companion Planting in the Garden
Useful table covering common garden vegetables, fruit and herbs/plants and recommended companion plants (for insect deterring and growth enhancement). Handy when planning and planting your garden to get the utmost from plant placement. Chemical free insect repelling! (Related titles: No. 36 – Recycling & Improvising in the Garden, No. 21 – Homemade Organic Sprays) 10 pages   Price: $8.00   (Available for instant download)   ADD TO CART Back to Index
No. 79 Natural Baby Body Care
Chemical free and safe alternatives for baby body care. Covers: body powders, baby oils, oatmeal (skin-care), plants and herbs for baby. Includes recipes for baby healing oil, milk and lavender bath powder, chamomile baby powder, herbal infusion, honey & milk moisturiser, natural soap-based products, make-your-own baby wipes and homemade rusks. 19 pages $12.00 (Available for instant download) ADD TO CART Back to Index
No. 80 Uses for Stale Bread
Over 80 recipes and suggestions for using stale bread – from bread crumbs to many practical uses to save money and time, as a filler and binder, recipes for soups, sauces, entrees, main dishes, desserts, cakes and biscuits, includes bread in craft work, healing wounds, coffee substitute, cleaning teeth and more!  (Related topics: No. 29 – Making Bread, No. 12 – How to Make Do, No. 40 – Surviving the Hard Times, No. 1 – Homemade Toothpowders and Mouthwashes, No. 64 – Coffee Substitutes). 26 pages    Price: $12.00    (Available for instant download) ADD TO CART Back to Index
_________________
Ways With' Booklets
Utilising what is in the garden to the absolute fullest! You'll be surprised at the many hidden uses for garden plants, flowers and produce growing right near your back door – safe to use straight from 'Mother Nature'. Ten booklets covering aspects of personal care, cosmetic, health and healing, culinary, cultivation, companion planting, and more for each plant. Back to Index
Ways With – Lavender – Highly valued since ancient Greek times and used in both World Wars as an antiseptic. Lavender relaxes, heals (migraines, toothache, colds, insect stings & bites), perfumes (lavender bags) and repels insects. Culinary – popular in Tudor times as a flavouring similar to herbs. (Try the lavender lemonade!)  33 pages  $12.00 ADD TO CART Back to Index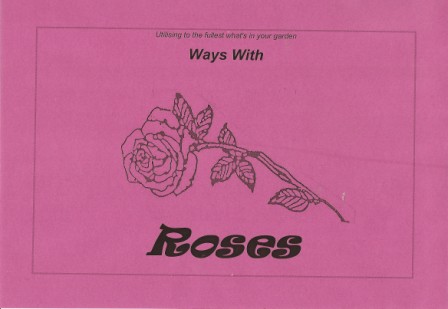 Ways With – Roses – Origins from ancient Persia used in food, drink, perfuming and therapeutic (believed to heal the heart). Recipes include: rose tea, jam, rosewater, pot pourri, air-freshener, drying, glacé, ice-cream, Turkish delight and more. Also section on rose hips – 1 cup rose hips contains 150 times Vitamin C of oranges! 25 pages  $12.00  ADD TO CART Back to Index
Ways With – Mint – Grows rampantly in most gardens. Innumerable hidden uses: hair rinse, breath freshener, skin-care, relaxant, flavour-some additive to food, repels insects (place in pet's bedding to deter fleas), deodorising – over 60 recipes and suggestions. You'll be surprised at its many uses  25 pages   $12.00  ADD TO CART Back to Index
Ways With
– Parsley – Past cultures believed that 'chewing parsley kept the devil at bay'! Parsley has many uses: therapeutic (urinary, iron deficiency), breath freshener, hair rinse, skin-care, general tonic as well as culinary – over 40 recipes. Includes parsley seed tea.  24 pages   $12.00  ADD TO CART Back to Index
Ways With – Rosemary – The most versatile of herbs with beliefs and traditions linked to many past cultures. Common, very hardy ornamental that has many uses: health (fatigue, insomnia), antiseptic, dark hair rinse, skin toner, mouth-wash, aromatic and perfuming, insect repellent and culinary (including dairy and drinks). 28 pages   $12.00   ADD TO CART Back to Index
Ways With – Thyme – Pungent herb – the oldest known herb – used by ancient Greeks and Romans. Powerful odour (20 times stronger than standard antiseptic) used for deodorising, insect repelling, anti-fungal, disinfecting, clearing nose and throat, hair treatment, culinary(including recipes for jam, soups, vegetable dishes, biscuits, drinks). 31 pages   $12.00   ADD TO CART Back to Index
Ways With – Sage – An ancient symbol of wisdom considered to be an 'anti-aging' herb. Many uses (folk-lore suggests it will heal 'just about everything'!): mild antiseptic, hair rinse, deodorant, aromatic (common base for soaps and perfumes), insect repellent, strengthens gums and teeth, culinary – added to many foods. Try the pineapple & sage cake recipe!  30 pages   $12.00  ADD TO CART Back to Index
Ways With – Nasturtiums - Origins from jungles of Peru and Mexico used as a mild antiseptic, coughs & colds, tooth infections, poultice, insect repellent, companion planting. Culinary – dried seeds used as a pepper substitute during World War 2 when pepper was in short supply.Add leaves to salads, vegetable dishes, soups. Try the pickled nasturtium seeds.  22 pages   $12.00   ADD TO CART Back to Index
Ways With – Tomatoes – A fruit by gene nature with origins in South America. Surprisingly tomatoes have many 'unusual' uses: skin toner and cleanser, sun-burn, poultice, insect repellent (boiled leaves used as garden spray). Culinary – recipes for jam, sauce, chutney, soups, pasta sauce, pickles, salads. Covers seed saving and how to preserve tomatoes: drying, freezing, juicing.  24 pages   $12.00  ADD TO CART Back to Index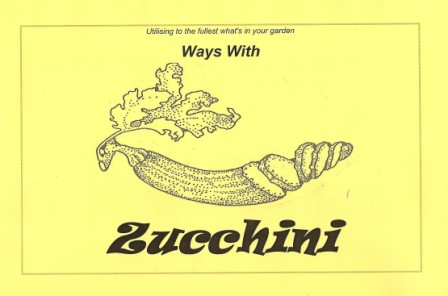 Ways With – Zucchini – Grows abundantly in the right conditions. Contains many recipes and ideas for using zucchini – roasted, grated, baked, stir-fries, soup, grilled, fritters, cakes, bread, rissoles, pasta, salads, jam, stuffed zucchini flowers, pickled.  Try the zucchini chocolate cake!  Includes other uses: cosmetic, sun-burn, skin lotion.   24 pages   $12.00  ADD TO CART Back to Index
75 Ideas for a Recycled Christmas:
Practical, Money Saving and Respectful to the Planet. Packed full of suggestions, ideas and recipes to beat the commercialisation of Christmas!  Contains: Christmas wrapping alternatives, cards and gift tags, Christmas tree and table decorations, bon-bons, candles, Christmas wreath, stockings, Christmas banner and lots of gift ideas.  Plus Christmas recipes – some healthy, some practical – all cheaper than the commercial option: including a healthy sugar,egg and butter/oil-free fruit cake, quick and easy rocky road, homemade chocolate (tastes better & cheaper than some of the Christmas chocolates on offer!); homemade snack noodles; caramelised grapes, healthy spiced nuts; children's play dough and how to make bath-salts.    16 pages   $8.00 ADD TO CART