Natural Hair & Body Care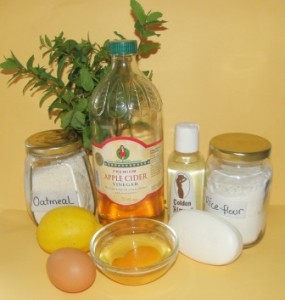 Natural Hair Care
Pure soap shampoo – in place of detergent-based shampoos
Egg – a natural hair shampoo.
Herbs - rosemary, chamomile, sage, parsley, geranium, lavender and tea tree infusion. Use as an after shampoo hair rinse and conditioner.
Rainwater or Spring-water – natural conditioner that softens hair
Yoghurt – scalp conditioner.
Cider Vinegar – hair conditioner.
Oil – replaces natural oils and helps prevent tangles.
More information  in e-Booklet No. 14 – Natural Hair Care (Available for instant download) Click here for information about e-booklets
Chemical Free Hair Colours and Dyes
Rinses: lemon juice (Nature's mild bleach), herbs (e.g. chamomile, sage, rosemary), rhubarb – as examples of sources for hair rinses.
Dyes (not permanent but definitely chemical free & safe to use) – examples: LIGHTENING: chamomile, calendula. REDDISH TINGE: henna, red hibiscus, beetroot. LIGHTEN BROWN HAIR: Turmeric. DARKEN/MASK GREY: Rosemary, sage, walnut husks.
More detail and recipes in e-Booklet No. 71 Natural Hair Dyes and Colours (Available for instant download) Click here for information about Shoppe Publications
Recipe: Lemon Hair Bleach: Mix ½ cup lemon juice with 1 cup flour to form a paste.   Apply to damp hair, cover with shower cap and leave minimum 15 minutes up to 1 hour (for best results). Wash out.  Lemon is a mild bleach that accentuates the natural fairness in hair. The result is gentle golden highlights for dark hair and for lighter hair a  golden blonde affect. (It may be necessary to repeat the procedure a few times to achieve the necessary affect).
From e-Booklet No. 71 - Natural Hair Dyes and Colours
Natural Personal Deodorants
Herbs – Thyme, rosemary, sage most suited as 'deodorant' herbs.
Rice-flour, corn-flour or orris root powder– use as dry deodorant or talc alternative.
Vinegar (Cider) – mild-acidic and anti-bacterial agent that helps prevent unpleasant odours caused by bacteria
Lemon juice – similar properties as vinegar
Dried flowers or flower water: rosewater or orange flower water (examples)
Recipe: Talc Alternative in Recycled Jar: Pour rice flour into a clean small to medium sized jar with metal lid. For plain 'talc' leave as it is. For scented 'talc' add essential oils, dried herbs or flowers. Pierce holes in lid to allow for easy sprinkling.
From e-Booklet No. 2 – Homemade Deodorants
(Available for instant download) Click here for information about e-booklets
Recipe: Lavender Vinegar-based Spray Deodorant:   Pour 10 ml cider vinegar into a suitably sized spray bottle. Add 80 ml water. Add 2-3 drops of lavender essential oil. Apply lid – shake well. Use 1-3 times daily as an underarm deodorant. This is a mild anti-bacterial deodorant that inhibits odour but does not reduce perspiration.
From e-Booklet No. 2 - Homemade Deodorants.  The Self-Sufficiency Shoppe sells 100ml spray mist bottles (as illustrated above) ideal for use as deodorant spray bottles (contact The Shoppe for ordering information)
Toothpaste Alternatives and Mouth Fresheners
Bicarbonate Soda and salt tooth powder
Herbs: examples – sage, mint, parsley (chew fresh or use in the form of an infusion as a mouth rinse)
Cloves & cardamom: added to food – natural breath freshener
Warm water and salt: Old time remedy that heals gums as well as clean teeth
Yoghurt - natural breath freshener
More detail and recipes in: e-Booklet No. 1 – Homemade Toothpastes & Mouth-washes (Available for instant download) Click here for information about e-booklets
Homemade Perfumes and Body Sprays
Scented and floral waters made from natural plants (i.e. rosewater, orange flower water, herbal water)
Bath Vinegars
Homemade Colognes
Essential oil blends
Recipes in e-Booklet No. 45 – Home Distillation of Herbs and Plants, No. 8 – Uses for Essential Oils and No. 37 – Beautiful Baths. (Available for instant download).  Click here for information about e-booklets
Natural Alternatives to Soap
Oatmeal
Lemon
Leaves of the Soap wort or similar plant that will lather and clean similar to soap
Bicarbonate Soda
More detail in e-Booklets No. 58 - Old-time Oatmeal, No. 10 - The Humble Lemon, No. 23 - Green Cleaning, No. 9 - Amazing Bicarb (Available for instant download) Click here for information about e-booklets
Click here for full publication list
________________________________________
Natural Body Care e-Booklet Set
Natural, safe and chemical free alternatives for: hair-care, hair dyes and colours, deodorants, foot and teeth care.
Contains 5 e-Booklets: No. 1 Homemade Toothpastes & Mouthwashes, No. 2 Recipes for Homemade Deodorants, No.14 Natural Hair Care, No. 27 Fantastic Feet, No. 71 Natural Hair Colours & Dyes.    Price: $39.00 Available for instant download.   ADD TO CART
Click here for information about other Booklet Sets
______________________________
Living in Harmony with the Planet Workshops

Natural Hair & Body Products Workshop@Home

Natural, safe alternatives for deodorants, body powders, shampoos, hair dyes, toothpaste and foot care. All chemical free using natural ingredients (from kitchen and garden)
Recipes and procedures for making: Lavender spray deodorant, herbal deodorant spray, rose deodorant/body powder, chamomile body  powder, herbal hair shampoo,  deodorising foot powder, teeth-cleaning powder, lemon hair bleach, dry hair shampoo
The Basics: To make all the products in this workshop you'll need: bi-carbonate of soda, rice flour, cider vinegar, eucalyptus oil, rose petals, fresh rosemary & lavender (from the garden), chamomile tea-bag, lavender essential oil, lemons, bar of soap, salt, food flavourings, recycled containers.   33 pages of recipes, procedures and information. Price: $25.00   Available for immediate download. ADD TO CART
_____________________
Pam's Post
In terms of living chemical free (or with the least possible amount chemicals in my day-to-day activities) 'Hair-care' would have to be my favourite 'chemical-free' topic! After years of dandruff problems using commercial shampoos my hair has now become very fine and thin. When I use commercial hair colouring products my hair falls  out and thins even further!  To deal with my hair problems I now use a soap-based home-made shampoo containing rosemary and lavender to stimulate hair growth (sometimes I add calendula if growing in the garden).   I use no other hair preparations – except occasionally for something different I make up a natural lemon-based bleach to enhance the fairness of my hair (as outlined earlier) – it is cheap and easy to make and most importantly: safe!  Through using these more natural alternatives my hair quality has improved and dandruff and oiliness are no longer a problem.
For my daily deodorant I make and use a lavender vinegar-based deodorant spray. I've been using it for years – it works well for me. I've never had any complaints!
Pam Marshall
Recipe: Homemade Rosemary Shampoo
To 2 cups of the soap jelly mix (recipe in 'Green-Cleaning' section) add 1 cup boiling water (or rosemary & lavender herbal infusion – see 'Wonderful World of Herbs'). Stir until the soap jelly has dissolved. Add two tablespoons of almond oil and a 5 drops each rosemary & lavender essential oils (optional – not necessary if using herbal infusion). Pour into a jar ready for use.   No need to use a conditioner – simply give your hair a final rinse with spring or rain water!
For more information about herbs or for the herbal infusion recipe click here